The Lovelock Bridge of
The Future
Access Collection
Discover the story of Pont des Arts
In 2015, all the lovelocks were removed from the bridge and their messages were gone forever. It is now impossible to attach new ones.
Missing forever? No, you can find them here, captured forever through the work of Alexis Bourdillat. He photographed 36,979 lovelocks on the Pont des Arts in 2013, locating each one precisely on the bridge.
Collect Parts of The
Lovelocks History
1. Collect
Bundles of the Lovelock Bridge
915 unique parts of the Pont des Arts in Paris. The artworks are mosaics made of the 36,969 lovelocks individually photographed in 2013. Become a Keeper of the Lovelock Bridge.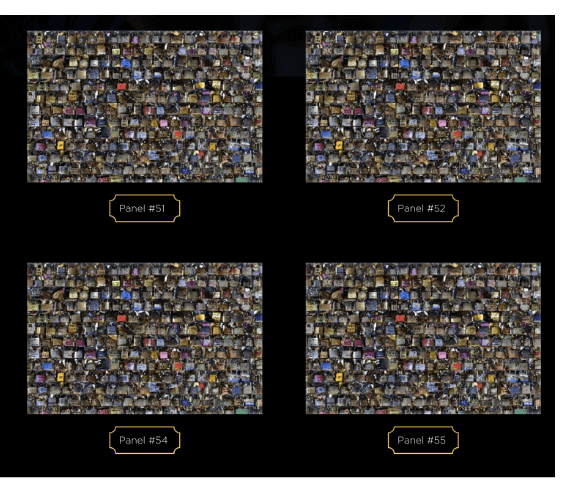 2. Metaverse
Your message on a digital padlock
Customize your padlock, engrave your message and display it in a 3D experience.
We're creating the
Bridge of the Future
As the lovelock phenomenon cannot be eternal in any place in the physical world, we are creating the universal experience of the lovelock ritual in a digital reality and making it accessible to everyone. You can express your feelings through digital custom padlocks on The Bridge of the Future!
Roadmap
From Paris Bridge to Metaverse
2013
Take Photos
We captured 36,979 individual lovelocks on the Pont des Arts in Paris by photographing and locating them one by one on the bridge. All lovelocks were removed in 2015.
Today
A new era begins
Welcome to the family! Follow WeLockLove on Twitter and Instagram and engage the conversation on Discord. Try to win free NFT's in giveaways and get rewarded when you help communicating on social media, before the next step of contribution starts.
January
Contribution starts!
Contribute by describing the lovelocks and earn free NFTs as rewards. We are building the world's largest database of love messages, so that every owner can find their own lovelock easily.
Get free NFT
Ongoing
Public Sale of the NFT Collection
We've held private sales during physical and online exhibitions. Now with this public sale, you can collect one of the 915 NFT of The Originals collection : parts of the Pont des Arts represented as mosaics of the lovelocks photos. Will you become a Keeper of The Lovelock's History? Don't miss our updates on social media!
Buy NFT
2023
Customize your Digital Lovelock
Send your message to the world by engraving it on a digital artwork! We are working with digital artists to create 3D lovelocks to display in a unique experience. You will own your lovelock as an NFT and have the opportunity to send it to your loved one!
After The
Collection Sale
Find your lovelock, get it for free as NFT
You will be able to type your names in a search bar! You will have every chance of finding your lovelock on the bridge. If you can prove that you have found a lock that you originally attached, we will send it to you as an NFT so that you can have it for yourself, forever!
Find your lock